About Us
---
So what are you waiting for?
A new, improved you is just a phone call away!
Classes for men and women.
Call today! 412-734-5254
Ask about our introductory specials and family discounts.
---
Location:
Lathen Martial Arts
257 West Riverview Avenue
Pittsburgh, PA 15202
---
Lathen Martial Arts is conveniently located 5 minutes from Downtown Pittsburgh in the Bellevue area. Easily accessible from Rt. 65 North/Ohio River Boulevard and I-279 Bellevue/West View Exit.
---
Can't Get To Us?
LMA comes to you through our "Executive" Personal Training Programs, offering the same quality instruction, in the privacy of your own home or office.
---
Hal Deily is an internationally recognized self-defense consultant, certified in eight different martial art disciplines. For years he has taught his unique blend of self-defense systems to numerous colleges, universities, fitness centers and law enforcement organizations. Mr. Deily currently trains with some of the world's leading martial art authorities, and is constantly updating the LMA curriculum to provide its clients with the latest in martial art training technology.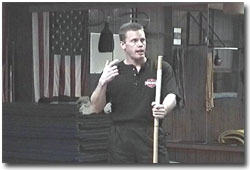 For over 30 years, Sifu Hal Deily has been accumulating a vast array of knowledge in a multitude of Martial Art systems. He has trained with some of the world's top authorities, resulting in qualifications that include teaching credentials in 8 different Martial Art styles.
Sifu Deily currently serves as owner and director of Lathen Martial Arts, located in Pittsburgh, Pennsylvania. He is also a staff instructor with the Community College of Allegheny County where he has been teaching credit and non-credit classes for 24 years. In addition, Sifu Deily is an Instructor with the Pennsylvania Motorcycle Safety Program, teaching at numerous MSP sites over the past 12 years.
Since 1984, Sifu Deily has trained extensively with Magalung Na Guro Dan Inosanto … 1 of only 3 individuals certified by the late Bruce Lee to teach his art of Jeet Kune Do, and the only person to ever receive instructor certificates in the three arts Sigung Lee taught during his lifetime. Sifu Deily is currently a Certified 'Full Instructor' / Mataas Na Guro under Guro Inosanto in the Filipino Martial Arts and Lee Jun Fan Gung Fu / Jeet Kune Do, as well as a Guro Level II in the Art of Maphilindo Silat thru the prestigious Inosanto Academy of Los Angeles, California.
Sifu Deily is also a Certified 'CrossFit' Kettlebell Instructor, as well as a Level II Certified T.P.I. / Titleist Performance Institute Fitness Professional with over 25 years of Personal Training Experience in both Group and Private settings. Known for his 'high tech' approach to athletic conditioning, Sifu Deily is the Founder of Komplete Kettlebells and the Komplete Konditioning Programs which combine numerous methods of achieving optimum Health & Athletic Excellence.
Recognized as a technician within the J.K.D. family, Sifu Deily has also successfully trained fighters for Full Contact competition … producing a Golden Gloves Boxing Champion, an 8-time local Toughman Champion, and a National Toughman Semi-Finalist.
A noted seminar speaker and instructor, he has worked with numerous colleges, universities, women's groups, children's organizations and affiliated Martial Art schools. Sifu Deily has also trained various Law Enforcement Agencies in Weapon Retention and Close-Quarter Combat Techniques. His clients include members of the F.B.I.'s Fugitive Task Force, the United States Secret Service and the Pennsylvania State Police.
Considered an expert in both Weapon and Empty-Handed Self-Defense, Sifu Deily's unique training and learning progressions offer a systematic, building-block approach to developing practical Martial Arts Skills.
List of Contributing Instructors
Dan Inosanto: *Instructor Certificates – Lee Jun Fan Gung Fu / Filipino Martial Arts / Maphilindo Silat – Madjapahit Martial Arts
Chai Sirisute: *Instructor Certificate – Muay Thai Kickboxing
Edgar Sulite: *Instructor Certificate – Lameco Eskrima
Mike Inay: *Instructor Certificates – Sinawali / Dequerdas
Steven Bodnar: *Ni Dan / 2nd Degree Black Belt… Okinawan Kenpo / Go Ju Karate
Erik Paulson: Shooto / Shoot Wrestling / Combat Submission Wrestling
Jean Jacques Machado: Machado Jiu-Jitsu
William Cheung: Wing Chun Kung Fu
Francis Fong: Wing Chun Kung Fu
Cass Magda: Indonesian Silat / Jun Fan / Jeet Kune Do / Filipino Kali
Larry Hartsell: Jun Fan / Jeet Kune Do / Western Boxing / Grappling
Tim Tackett: Jun Fan / Jeet Kune Do
Jerry Poteet: Jun Fan / Jeet Kune Do
Paul De Thouars: Butki Negara Pentjak Silat
Paul Vunak: Jun Fan / Jeet Kune Do
Dinoy Canete: Doce Pares Eskrima
Jimmy Tacosa: Serrada Eskrima
Nattapong Buayam: Krabi Krabong
Joe Lewis: American Freestyle Karate
Bill Wallace: American Freestyle Karate
Young Bo Kong: Tae Kwon Do
Stephen Hayes: Ninjitsu
Victor De Thouars: Pentjak Silat Sera – Serak
---
Facilities & Styles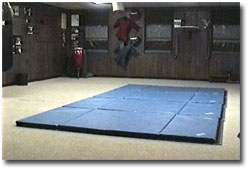 Lathen Martial Arts is a modern martial arts organization, offering the most comprehensive and exciting training programs in the tri-state area. Located five minutes from downtown Pittsburgh, this 1200 square foot, "state of the art" facility houses an impressive array of martial art, boxing and kickboxing equipment. LMA's unique curriculum and class format provides students with the flexibility to receive instruction in a mixture of proven martial art styles.
Lathen Martial Arts is staffed by a team of professionally trained instructors, ensuring safe, "learning-oriented" classroom experiences. Step by Step you will be personally guided through dynamic and fun lessons in self-discovery, as well as self-defense. As your skills grow, so will your ability to "take on" new challenges, overcome obstacles and achieve personal success! Physically invigorating workouts, coupled with modern self-defense techniques will not only get you in shape, but will provide you with the mental discipline, self-control and quiet confidence that only the martial arts has to offer.
---
Law Enforcement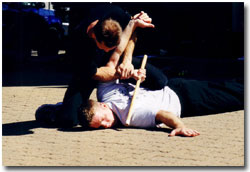 Lathen Martial Arts has worked with numerous law enforcement agencies at the local, state, and federal levels, providing a complete line of services designed specifically for law enforcement personnel. Pressure Point Control, Straight Baton Use, Low Profile Stunning Techniques, and Edged Weapon Defense are only a few of the customized services LMA can provide for your organization or department. Additionally, LMA offers discounted rates for all law enforcement personnel. Seminar, group, and private instruction are available.
---
Seminars, Workshops, & Clinics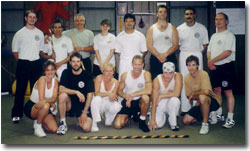 Seminars, Workshops, & Clinics are "Mini-Programs" (1 to 6 hours), that are intended to present practical information on some specific aspect of self-defense training. "Hands-On" drills, group discussions, and/or video presentations make this one of the most interesting and unique learning experiences available. Topics include: Women's Personal Safety, Filipino Knife Defenses, Hand and Foot Trapping, Ground Fighting, Joint Locks and Manipulations, etc… and as always, Lathen Martial Arts will work with you in developing a customized program to fit your organization's specific needs.